From start to finish the Mississippi River stretches roughly 2,320 miles. While many people have said we're crazy to do it just once, we'd have to make the trip 33 and a half times for the miles to equal the amount of people diagnosed with a brain tumor in 2016 alone. It's a pretty morbid comparison, but if you keep reading you'll see there's a point.
If you're ever lucky enough to come to one of our family gatherings, you'll discover two things. First, when you get us all together it can sometimes be tough to get a word in edgewise. Secondly, it's impossible to get through one of these events without someone laughing so hard they have to leave the room for a moment in order to catch their breath.
However, if you were with my family in April of 2016 you might not have guessed all this. Packed inside a Chicago church the normally loud and joyous group, instead sat quietly as we got set to say our final goodbyes. We were there for Krista Leah Ronai. She was my cousin. Many others called her a friend. For one lucky guy she was a wife, and for a brave seven-year-old girl she was simply, "Mama." It didn't matter how you knew her; everyone would tell you Krista was an amazing individual who was taken from us too soon. She had lost her seven-year battle with brain cancer, and it is through her memory I humbly ask for a donation.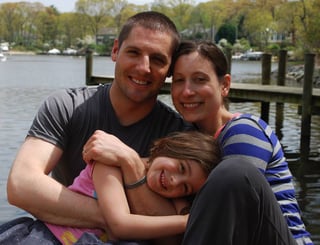 (This is who we're doing it for)
Remember how I started this by saying the Mississippi River is about 2,320 miles long? Well, since my brother and I are planning to knock off the entire thing that's how much we're looking to raise for cancer research.
Everything we collect (minus what GoFundMe takes) will be sent to the Cancer Research Institute.* While every donation is appreciated those who contribute at least $50 will get their initials on one of our river used paddles. We'd like to thank you in advance, and if you'd like to donate the link can be found below.
https://www.gofundme.com/rowing-for-a-cause
*Here's what three different watchdog sites said about the Cancer Research Institute
http://www.clark.com/best-and-worst-charities-from-consumer-reports
http://www.consumerreports.org/charities/best-charities-for-your-donations/