We sailed passed the Missouri River, marveled at a curved triangle, and oh yea… we were robbed (that's to come in a pod). So it's safe to say we had quite the exciting week. Here's everything you missed (and then some) from 07/24 - 07/30.
Weekly Miles: 177
Overall Miles: 1,183

Day 35- 43 Miles: Fox Island to Whitney Island. We'd been warned about rising flood waters throughout the week, but laughed at the notion the Mississippi River could ever defeat two well versed frontiersmen (a self appointed title). Well, a seven to 10 foot rise in water level overtook our camp, and as a prize claimed our cooler, the beef jerky, and my beloved JetBoil.
Day 36- 8 Miles: Whitney Island to just outside Hannibal, Missouri. What was originally set to be a short stopover, turned into a full day of adventure as we explored the childhood home of Mark Twain. It's safe to say he's my new favorite classical (which sounds so much better than saying dead) author. I even purchased, A Connecticut Yankee in King Arthur's Court. Oh and a shout out to James who helped us fix our canoe seat after the screw snapped (yes Trent was sitting in this seat).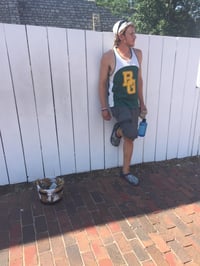 (I told Trent to pretend to white wash the fence. He did this instead.)
Day 37- 34 Miles: Hannibal to Lock and Dam 24. We had to make a pitstop in Louisiana, Missouri after, you guessed it, Trent snapped the adjacent screw in his seat (and I'm still not allowed to make fat jokes). Once we got ourselves a drill we paddled all the way to Lock and Dam 24. Unfortunately we were stuck waiting for a procession of barges. We ended up portaging the dam, and after I left my hat on the adjacent rocks; Trent stepped up big, and we boated across the barge filled water (like navy seals mind you) to retrieve my distressed hat.
Day 38- 37 Miles: Lock and Dam 24 to Caivre Island (that's really how you spell it). We portaged around our second lock in a row (which is ridiculous) in order to try and get on the water before the rain hit. We missed the brunt of the storm, but that didn't stop us from getting drenched (twice). However, in this ying vs yang trip we ended our evening with a beautiful sunset.
Day 39- 50 Miles (a new personal record): Caivre Island to Mosentheia Island. We didn't plan it this way, but we set a new pr as we covered 50 miles! Crazy part is we even stopped off at the Argosy RIVERBOAT casino (in Alton, Illinois) for two hours (I won $18). Better yet, we made it through our final lock and dam. If that wasn't enough we skirted passed the Missouri River, and camped right outside St. Louis.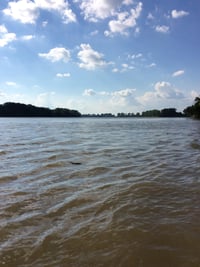 (The Missouri River)
Day 40- 5 miles: Mosentheia to St. Louis. We jumped out right before the arch, and that's when our problems began. We were shook down for $25 by the smooth talking Kevin Williams (we'll do a lengthy pod on him), but thankfully escaped with our valuables. The highlight of the day had to be the authentic BBQ platter we go at Smoki O's, which included snoots (a St. Louis delicacy).
Day 41- 0 Miles: St. Louis. We took a big fat zero to explore the city a bit more. This included looking at the arch, a Cardinals' game, and of course another late trip to the casino.

A Look Ahead: Having now regained our city smarts we paddle on with Memphis in the distant horizon.