There were no off days in this latest stretch. Our cousins told us they'd be in Dubuque, Iowa come Saturday, (07/15) and we were determined to get there. I'd like to say going forward every week will be this successful, but why would I lie to the readers. It's our week in review from 07/10-07/16
Weekly Miles: 273.5
Total Miles: 784
Day 21- 48.5 Miles: Upper Gray Cloud to Frontenal State Park. Not every day is a cause for celebration, but this was one of those exceptions. I want you to soak this in, we went almost 50 miles last Monday! We ended up camping out in someone's front yard, (thank you Emily) and made it about a quarter across Lake Pepin.
Day 22- 43 Miles: Frontenal State Park to Island #55. We had the pleasure of crossing paths with Sam, Charlie, and Gurvey (we'll have a detailed blog post about them Thursday).
Day 23- 44 Miles: Island #55 to right outside La Crosse, Wisconsin. Sometimes looking homeless can work to your benefit! A boat of guardian angels motored over to us near the end of the day, and offered us pizza (thank you again). We also had to skirt around a rather large barge that was grounded (stuck) near one of the locks, and was waiting for reinforcements.
Day 24- 46 Miles: La Crosse to Gordon's Bay. For the first time this trip we paddled Jean outside of Minnesota. We were a little upset there was no grand sign to commemorate our accomplishment. Unlike when you cross state lines on the road there is no official indication when you move onto the next state.
Day 25- 46 Miles: Gordon's Bay to Balltown. We stopped in Marquette, Iowa for what was only supposed to be a quick water break, but pretty soon turned into a full lunch. We met our second foursome of guardian angels when the two couples next to us paid for our lunch, and insisted the waitress inform us only after they'd left (another huge thank you). Oh, and I'm shocked we actually left Marquette when we did as the first thing we spotted when we arrived was a riverboat casino.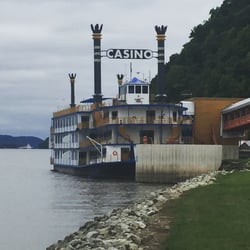 (Trent's money didn't stand a chance on her.)
Day 26- 20 Miles: Balltown to Dubuque. Getting into the city (and waving goodbye to Wisconsin) wasn't an issue, but finding the post office became one. As we aimlessly wandered around town this car pulled over, and offered to give a ride to two smelly and sandy passengers. Cue Joe and Lynne, and even though they had a car full of fresh bread they made room for us (again we were covered in sand!) We were fed (and then some) at Joe's Bar (Lot One) before they graciously drove us to our hotel. This little blurb does not do justice to how thankful we are for their hospitality. It is a moment we will never forget. Thank You.
Day 27- 0 Miles: Yup, after talking it over with our cousins we decided to spend an extra day in Dubuque. Believe it or not the acts of kindness weren't done yet. We split a hibachi table with the Juergens (happy birthday again Nick!), and when it was time to leave they insisted on picking up the check. People don't do that in New England! Thank you again Nick, Molly, Jaclyn, John, and Jeff it was a pleasure to meet you.
A Look Ahead: For the first time this trip I honestly don't know what's next. We'll leave Dubuque on the 17th and paddle until we find something which tickles our fancy.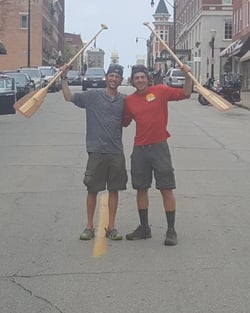 (We were right at home in Dubuque, Iowa)