So long triple digits! The NQLC team has officially moved into the quadruple digit mark, as we've crossed the 1,000 mile line (you can clap, it's encouraged). However, that wasn't the only exciting thing to happen this week. Here's everything from 07/17- 07/23.

Weekly Miles: 222 (odd I know)
Total Miles: 1006 (and boom goes the dynamite)

Day 28- 18 Miles: Dubuque, Iowa to Spruce Creek. After a series of delays we begrudgingly said goodbye to our home away from home. We had to jump into our canoe twice because the first time a boat came by, and soaked us before we could get off land. On the bright side we brought along taco meat, and had a feast once we hit camp.
Day 29- 39 Miles: Spruce Creek to Lock 13. Nothing says you're not in a hotel anymore like a 39 mile day. Believe it or not our two days in Dubuque made me miss being out on the water. However, that quickly changed once we got stuck at lock 13 for an hour and a half. No one told us a barge was on the other side so we sat at the lock twiddling our thumbs as a storm came roaring in. By the time we realized we weren't getting through we had to paddle like mad men just to set up camp in this tiny swamp area. We got our tents up before the lightning came, but we also got soaked first and both wound up catching poison ivy (it's been miserable ever since).
Day 30- 41 Miles: Lock 13 to Rock Island. Arguably the hottest day of the journey, and we spent it out on the water. Accidentally blew past the Quad Cities, and had to settle for camping on the outskirts of Rock Island. Thanks to a slanted tent site, the train tracks right above us, and a construction zone literally behind my tent, I got the worst sleep I've had all trip.
Day 31- 33 Miles: Rock Island to Blanchard Island. We went island hoping to commemorate our first month on the Mighty Mississippi. We broke up the paddling with a lunch break in good old Muscatine, Iowa. It was here we also got Trent a new baseball hat (he now reps a Mexican soccer team) to replace the one he lost two days before in the storm.
Day 32- 25 Miles: Blanchard Island to Big River State Forest. We called the day early once we saw the black clouds rolling in. We had been bogged down yet again by thunderstorms the night before, and this time we wanted to be ready. To bad the sun came back out, and we didn't get hit with storms until about 3:30 am.
Day 33- 24 Miles: Big River State Forest to the Lightfoots' cabin in Carman, Illinois. Talk about being in the right place at the right time. We initially paddled past a party sandbar unphased by the relentless cat calls. We only stopped once a boat tracked us down. This is how we met Ryan, Amy (husband and wife), and Jarrett (son). They insisted we come back to their cabin, and enjoy the party they were about to have. We did, and it was one of the best decisions we've made all trip. We gorged on BBQ chicken and buffalo chicken dip (Amy is one hell of a chef - and the second Amy I know who can cook), drank enough Busch Lights to keep them in business for another 100 years, and met some amazing people over a few games of corn hole (although they call it "bags"). That's not to mention the showers we took, and the laundry we did inside a beautiful air conditioned cabin. It was so enjoyable you can bet we'll be recapping it on an upcoming podcast. But, that doesn't mean we can't say thank you yet again right here- Thank You!
Day 34- 42 Miles: Carman, Illinois to Fox Island. It wasn't supposed to be a long day, (remember all that drinking from the night before) but it turned into one. We conquered Lock 19 and it's 31 foot drop. Plus we hit the 1000 mile mark, AND crossed into Missouri (woo!).

A Look Ahead- We hope by the this time next week we'll either be in, or at least only a few miles away, from St. Louis.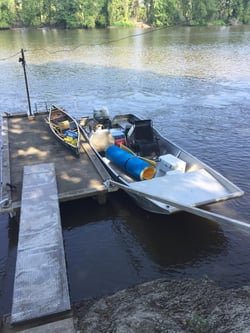 (Jean hanging out with the Lightfoots' homemade boat)